Location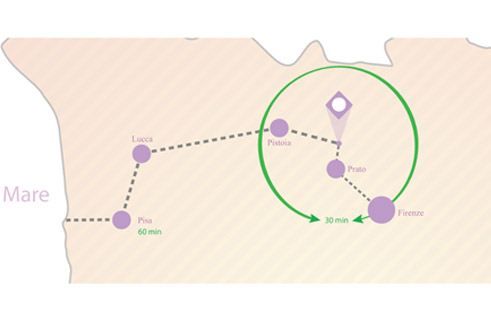 The B & B I Glicini lies in via di Galceti commune of Montemurlo, province of Prato, Tuscany, halfway between Florence and Pistoia. Located only four kilometres from the historic centre of Prato.
THOSE ARRIVING BY CAR: On motorway A11 arriving from Pisa it is recommended that you exit Prato ovest exit. For those coming from Florence instead, the Prato est exit. In both cases, you must follow the signs for Vaiano-Vernio and reach the tangenziale ovest in direction North.
ARRIVING BY PUBLIC TRANSPORT: Less than 100 metres from the B & B, on via Montalese, lies the Lam Viola (high mobility Line) to reach by bus the Centre of Prato and the railway station of Prato. For timetables of racing visit the Cap of lawn: www.capautolinee.it
ARRIVING BY PLANE: The nearest airports are those of Florence (30 minutes) and Pisa (1 hour) and are connected by train with lawn. The two railway stations of Prato (Prato Porta al Serraglio and Prato Centrale) frequently trains pass through Florence, Pistoia, Montecatini Terme, Lucca, Viareggio. In just 10 minutes you can walk to the Centre of natural sciences and of Galceti Park.

Prato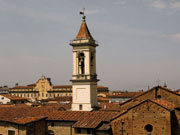 Meadow is a town and comune of Tuscany in the province of Prato. Traditionally placed in textile processing, the Lawn was one of the most developed industrial districts in Italy and abroad. With the qualitative and quantitative scaling of textile economics activity today tends to fit more in the service sector. An important testimony of the past Meadow district are elements of industrial archaeology today often retrained to accommodate activities in the world of culture and art. Santa Chiara district you can visit the textile museum which is located in the old woollen mill Cahya. Prato is also the European headquarters of the Australian Monash University.
In Prato, where he was born the Slow Food movement, there are many award-winning restaurants with traditional Tuscan cooking and Prato.
With 188 thousand inhabitants, Prato is Tuscany's second city after Florence to demographic size (Istat 2011). Characterized by a massive internal migration since the post-war years, in the early 1990s, as all cities in southern Europe, has seen the arrival of international immigration from diverse backgrounds. Today foreign citizens residing in Prato are about 33 thousand, equal to 13 percent of the population. Over the years it has also strengthened the Chinese immigrant presence, which in 2010 is about 40 per cent of the total foreign population (Istat 2010). Prato is in many ways a real intercultural laboratory and there are many activities of Italian and foreign associations and local institutions that are the objective of improving mutual knowledge of cultures both in schools and in everyday life.
The Chinese immigrant population was initially absorbed as bassocosto labour for textile processing in an attempt to produce goods that could compete with international competition. More recently it has been able to develop important business initiatives in a sector, or ready-to-wear, which is complementary and alternative (non-competitive) textile processing. Despite this, studies in recent years have been conducted in Prato in the immigration field confirm a high level of racism toward the Chinese in Prato and widespread as the erroneous belief that entrepreneurial activities are the cause of Chinese employment crisis and profits of textile economy of the natives. It is also developing in Prato lively Chinese quarter of via Pistoiese and Marine Street with traditional restaurants (known among Chinese all over Italy), supermarkets, erbosristerie and shops.